Na de Arabische lente, waarvan iedereen nu wel weet dat dit een door de elite opgezet plan was om de macht in het Midden Oosten te grijpen kregen wij de coup in Oekraïne, Ecuador, Brazilië en nu willen ze Venezuela inlijven op eenzelfde ondemocratische wijze. Onze gekozen en ongekozen leiders die ons dagelijks vertellen hoe wij de wet moeten volgen op laste van zware geldelijke boetes blijken zelf de wetten met voeten te treden. Wetten en regels gelden klaarblijkelijk alleen voor het gepeupel en niet voor de elitaire klasse. Zij bepalen welke mensen een nieuwe en welke mensen geen nieuwe leider kunnen krijgen.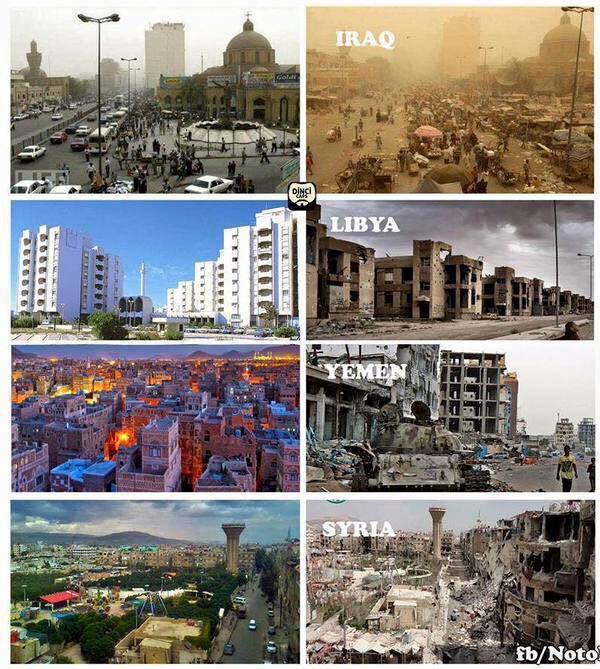 Irak
Irak werd op basis van valse voorwendselen van de mainstream media kapot gemaakt. Sadam Hoessein zou massavernietigingswapens bezitten en zou deze binnen 48 uur in kunnen zetten tegen de hele wereld. Later bleek dit verhaal volledig verzonnen te zijn maar Irak is kapot.
Zo bleek de coup in Oekraïne in het voordeel van de elite en werd deze niet alleen goed gekeurd maar zelfs ondersteund door EU functionarissen die in het land van de coup voor de coupplegers spraken op zwaar gesubsidieerde demonstraties waar vermeende demonstranten per dag betaald werden voor hun deelname, alles om het zo echt mogelijk te laten lijken. Mensen die zich niet aansloten bij de EU functionarissen werden geïsoleerd en met militair geweld bejegend. Dit speelt nog steeds en dreigt steeds verder te escaleren.
In Libië werd het helemaal bond gemaakt. Op basis van een grove leugen door mainstream media werd in no time het hele land kapot gebombardeerd voor de vrede, hun leider op gruwelijke wijze vermoord met als resultaat een complete chaotische situatie door het hele land. Het eens rijkste land van Afrika is nu verworden tot het afvoerputje van dat continent.
Na Libië werden de huurlingen die gebruikt werden om Ghadaffi te elimineren via Jordanië naar Syrië gebracht. Via Daraa kwamen ze het land binnen en begonnen vrijwel meteen demonstraties te forceren. Ook hier werden demonstranten betaald. De politie van Syrië probeerde de boel te kalmeren maar werd beschoten door de huurlingen die door de mainstream media steevast als rebellen betiteld werden. Mainstream media sprak vanaf dat moment van een burgeroorlog in Syrië. Dat bleek echter een leugen want er vechten geen burgers tegen elkaar in Syrië, er vechten enkel huurlingen uit verschillende landen met soldaten van het Syrische en Russische leger. Later werd ook Iran uitgenodigd om het Syrische leger te versterken. Samen met Hezbollah zorgden deze partijen ervoor dat Syrië de coup van de elite kon weerstaan. Nog steeds is het niet helemaal rustig in Syrië maar de macht van de Russische defensieve wapens voorkomen voorlopig erger.
Jarenlang wist Rafael Correa de elite buiten de deur te houden maar in 2017 begon de ellende. Groepen die verdacht veel verwantschap hadden met Amerikaanse imperialisten kregen via verkiezingen voet aan de grond in het land. Als je geld hebt kun je alles kopen, zelfs verkiezingen. Ecuador was een arm land maar onder de bezielende leiding van Correa werd de armoede met meer dan 20% terug gedrongen. Correa genoot dan ook heel veel steun vanuit de bevolking. De elite weet daar wel raad mee. Als een volk vertrouwen heeft in hun leider dan moet je die leider zwart maken. Dan kan heel gemakkelijk door een artikel in een grote krant te plaatsen. Correa werd gecriminaliseerd en een deel van de bevolking pikte dit. Een ander groot deel echter niet, ze bleven achter Correa staan want hij had bewezen dat Ecuador ook anders kan. Zijn termijn verstreek en verkiezingen kwamen. De geheel niet populaire tegenpartij kreeg volgens de stemming de meeste stemmen. De bevolking rook onraad, verkiezingsfraude maar het leed was al geleden. Correa moest weg en de nieuwe leider volgt ineens het pad van de elite. Het eens vrije Ecuador was terug bij af!
In Brazilië werd een soortgelijk spelletje gespeeld door de elite en de eeuwig collaborerende media. De immens populaire Dilma Rousseff werd verdacht gemaakt door de nieuwskanalen, het volk slikte de onzin en Dilma werd afgezet. Bolsonaro kwam ervoor in de plaats, een goede vriend van Israël en Netanyahu. Een mogelijke doodsteek voor de BRICS. Ook in Brazilië moest de democratie wijken voor de macht van de elite.
Nu, na vele tevergeefse pogingen eerder om de macht te grijpen ( een stuk of 2 keer geprobeerd bij Hugo Chavez ) in dat land, heeft de elite een manier gevonden om door te drukken. Er hoeven geeneens verkiezingen meer te komen. Zogenaamde democratische landen staan te springen om een ongekozen zichzelf benoemde president te steunen en de door het volk gekozen president, Maduro, met geweld af te zetten. De VS overweegt zoals gebruikelijk het leger in te zetten. Gelukkig voor Venezuela heeft Maduro de juiste stappen genomen en heeft Putin gevraagd te helpen in deze kwestie. De VN heeft zelfs een spoedvergadering gehouden en of je het gelooft of niet, het orgaan dat de internationale vrede moet bewaken heeft opgeroepen de coup te accepteren. Lekker democratisch hé!
Maar in Frankrijk liggen de kaarten blijkbaar anders. Hier roept de bevolking echt om verandering, ze willen hun leider Macron kwijt. Hier staan geen EU functionarissen op het podium om de demonstranten te steunen en de regering te verwijderen, neen hier worden tanks, waterkanonnen, traangas en rubber kogels ingezet om de demonstranten te lijf te gaan. Deze demonstranten hebben blijkbaar niet het recht om zich te uiten, deze demonstranten vragen namelijk het afzetten van een elitaire leider, dat laat de elite niet toe dus worden deze demonstranten gecriminaliseerd en hard neergeslagen met zwaar geweld. Inmiddels al meer dan 10 doden! Mainstream media doet dagelijks haar best om de demonstranten zo kwaad mogelijk neer te zetten. Dat er agent provocateurs worden ingezet die demonstraties opzettelijk willen laten escaleren om zodoende de autoriteiten de macht te geven in te grijpen, daar zijn de dames en heren jhournalisten niet toe in staat om aan te tonen. Neen, wel de demonstranten wegzetten als criminelen. Ik vraag mij echt af waarom er nog mensen zijn die kranten kopen of nieuwszenders volgen. Ze liegen dat ze barsten! Ze zijn een verlengstuk van de elite en de elite wil niets weten van het gewone volk, zij willen alleen geld en macht! De media collaboreert met de elite en verraadt de gewone burger!
De elite is zo bang voor deze organisatie dat ze nu contra organisaties verzinnen die met een andere kleur gaan demonstreren, nota bene tegen het geweld van de gele vesten. Dat geweld dat door de autoriteiten opgeroepen en georganiseerd wordt. Jammer genoeg is de grote massa zo zwaar geïndoctrineerd dat ze niet eens zien wat de elite allemaal uitspoken. Ze kunnen de leugens simpelweg niet bevatten! Op de een of andere manier kunnen mensen in Frankrijk dit wel zien of zouden ze er in Frankrijk gewoon al erger aan toe zijn?
Twee maten meten
Het is duidelijk dat er met twee maten gemeten wordt. Demonstranten in Oekraïne en Venezuela zijn welkom en worden geholpen en toegesproken door EU ambtenaren maar in Frankrijk en de rest van de wereld waar demonstraties zijn tegen overheden die al gelieerd zijn aan de NWO worden demonstranten met militair geweld neergeslagen. De elite wil geen vrede, geen rust, geen bevolking die tevreden is, de elite wil geld en ongebreidelde macht, zelfs als dit ten koste gaat van een grote groep van de bevolking. Het is tijd dat gewone mensen de wetten gaan (her)schrijven en uitvoeren, het wordt tijd dat politieke en organisatorische fraude hard aangepakt wordt in plaats van achterlijke bekeuringen omdat we een paar kilometers te hard gaan. De wetten moeten voor iedereen gelden en straffen zouden de zwaarte van de misdaad moeten vertegenwoordigen.
Ik ben niet bang dat Venezuela zal vallen zolang Maduro uitvoert wat de Russen van hem vragen. Zij hebben al vaker met dit bijltje gehakt. De sleutel is je niet te laten provoceren.
Al deze acties geven maar één ding aan en dat is dat de elite in zwaar weer beland zijn, ze kunnen enkel nog met geweld burgers tegen houden. De vraag is hoe lang nog! Als mensen de straat op blijven gaan in gele vesten en afdwingen waar ze recht op hebben zal er ergens een omslagmoment komen. Dat is het moment dat iedereen heel goed moet gaan oppassen, dat is het moment dat de NWO het geheel kan overnemen door deze of gene naar voren te schuiven als leider van het volk om later te ontpoppen als marionet van de elite. Revoluties worden altijd weer overgenomen door de elite, wees deze keer waakzaam en laat dat niet meer gebeuren!
Niet de eerste keer
Dit is niet de eerste keer dat de VS elite geprobeerd hebben een coup te plegen in Venezuela. In 2002 werd het al eens eerder geprobeerd, toen was Hugo Chavez nog aan de macht. Hij wilde de olieopbrengsten die van ouds her verdeeld werden onder een kleine groep elite herverdelen onder de gehele bevolking. De lange arm van de elite werd ineens zichtbaar in de vorm van de CIA die Chavez ontvoerde. Het volk pikte dit echter niet en heeft Chavez op eigen houtje bevrijd van de CIA. De nu volgende documentaire laat zien wat er in die tijd allemaal gebeurde. Het heeft helemaal niets met verkiezingen te maken want daar hebben de elite letterlijk schijt aan. Het gaat om geld en macht over olie en andere grondstoffen. De elite wil daar controle over krijgen en dat vertikt Maduro!
Omdat ik na het plaatsen van dit artikel steeds opmerkingen krijg over het zogenaamde wanbeleid van Maduro plaats ik het volgende filmpje waarin Abby Martin duidelijk maakt wat er aan de hand is en wat de bedoelingen zijn van de elite. Welke processen er aan vooraf gingen en hoe de propaganda tot op zekere hoogte werkt, zelfs bij mensen die claimen op de hoogte te zijn.