Het is Trump wat de klok slaat, overal waar je kijkt lees je artikelen over Trump. Voor de een is het de verlosser en voor de ander de duivel in hoogsteigen persoon. Wat mij echter het meeste verbaast is de gedachte dat veel mensen denken dat Trump president van de VS geworden is tegen de wil van de elite. Voor mij een onbegrijpelijke stelling want in de VS wordt je geen president door de verkiezingen maar door illustere groepjes die achter de schermen werken en altijd één bepaald doel voor ogen hebben. Ook stellingen zoals, de NWO ( Nieuwe Wereld Orde ) wordt door Trump afgebroken of tegen gewerkt, kan ik het absoluut niet mee eens zijn.
Ja, Trump is een excentriek figuur en ja, hij heeft, in tegenstelling tot zijn voorganger Obama, wel meteen bepaalde beloftes ingewilligd zoals het bouwen van een muur om Mexico, een inreisverbod voor potentiele terroristen, wat is de werkelijke agenda van deze man? Maar hij heeft ook al beloftes verbroken. Als je maar genoeg beloftes doet weet straks niemand meer wat er nu wel of niet werkelijkheid is geworden.
Voor mensen die de NWO volgen is het bekend dat het nieuwe pas kan komen als het oude er niet meer is. De NWO kan dus pas haar intrede doen wanneer de Oude Wereld Orde er niet meer is. Volgens mij is dat precies wat Trump aan het doen is. Hij breekt de oude structuren af, desnoods met de nodige chaos, om de weg vrij te maken voor de zo lang gekoesterde NWO.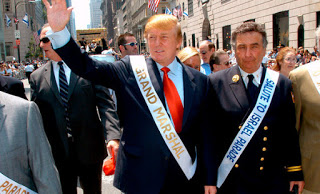 Dat de man van hetzelfde laken en pak is als zijn voorgangers heeft hij al bewezen door meteen bij zijn aantreden de vriendschap met Netanyahu te bekrachtigen en hem te complimenteren met zijn manier van leiding geven. Trump is dus een zionist van de puurste soort en dat laat hij zien door meteen te generaliseren op alle vlakken, inwoners van 6 verschillende landen zijn niet meer welkom in de VS maar Saoedi Arabië hoort daar vreemd genoeg niet bij, terwijl daar volgens hun eigen lezing de daders van 911 vandaan kwamen. Dat onderstreept meteen maar weer aan welke kant deze man staat, aan de kant van de aartsleugenaars!
Ook zijn zogenaamde toenadering tot Rusland. Dat is geen idee van hem maar een absolute noodzaak voor de VS om bepaalde zaken straks te kunnen regelen. Een oorlog met Rusland is geen optie en dit spelletje nog eens 4 jaar volhouden, Rusland is alles schuld, gelooft geen mens meer.
Maar zijn haat jegens de mainstream media dan? Volgens mij allemaal spel. Niet iedereen binnen de media weet hoe haasje hupt, het overgrote deel doet gewoon wat ze opgedragen krijgen. Als de grote baas zegt dat ze Trump moeten bashen, dan doen ze dat. Het publiek heeft daarbij het gevoel dat er eindelijk veranderingen aan staan te komen want zelfs mainstream media willen de man niet.
Van Trump is bekend dat hij op- een bepaald moment geen rooie cent meer had en zijn imperium dreigde te verliezen. Het waren de Rothschilds die Trump uit het moeras trokken.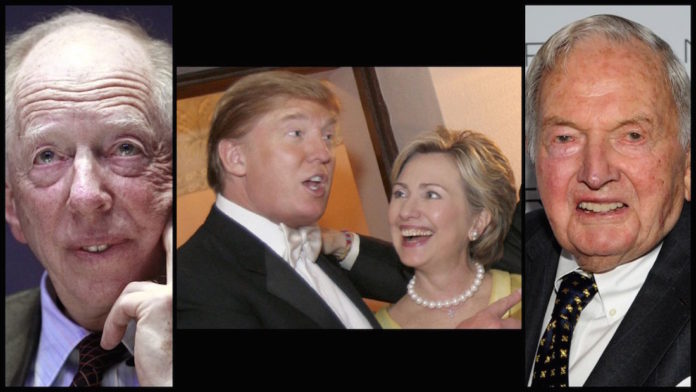 Het waren ook de Rothschilds die de verkiezingen van de VS deze keer manipuleerden. Bernie Sanders, de enige echte kandidaat en meest geliefde onder het volk moest weg. Clinton maakte weinig kans omdat ze zwak overkwam en behoorlijk wat lijken in haar kast had. Of daarbij ook nog een handje geholpen werd is voor mij momenteel nog niet duidelijk. Volgens de laatste overzichten stond ze er vele malen slechter voor dan door de media aangegeven. De media zijn in deze gebruikt door de elite om precies het tegenover gestelde over te brengen. Het kenmerk van de elite, iets volledig verdraaien! Ze zijn zo gruwelijk doortrapt deze elitaire kliek, hebben zo veel ervaring met het manipuleren van complete landen en zelfs werelddelen, dat ze vaak pas na de daad betrapt kunnen worden. Ze gebruiken vriend en vijand om hun doelen te bereiken.
Neen beste lezers, de NWO is zwakker dan ooit maar nog niet verslagen. Trump is hun Trumpcard, hun troef, hun laatste poging om de NWO alsnog voor elkaar te krijgen. Trump moet de VS afbreken, isoleren, het volk moet boos worden en in opstand komen waarna het met harde hand neer geslagen zal worden en ontwapend om de zogenaamde algehele veiligheid te herstellen. Het tweede amendement waar Obama al 8 jaar mee bezig was zal nu met geweld nietig verklaard worden. In de tussentijd zal ook de EU de ene na de andere klap te verduren krijgen om uiteindelijk hetzelfde resultaat te bereiken. Algehele afbraak en opstandige bevolkingen. Chaos alom . En hoe luidde die spreuk van de NWO ook alweer?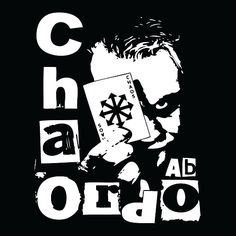 Ab Ordo Chao, uit de chaos zal de nieuwe wereldorde ontstaan.
Er is nog één andere optie.
Trump speelt een dubbele rol en breekt de NWO echt af. Maar deze optie zal hij eerst moeten bewijzen voordat wij daar daadwerkelijk serieus naar gaan kijken. Voor Bovendien is het momenteel hetzelfde spelletje, ander poppetje, zelfde echte machthebbers, geld en macht zijn de belangrijkste factoren en alle andere zaken die Trump roept en doet zijn pure afleiding!
Het spel is nog niet gespeeld!